Startseite (Home)
über uns (about us)
Aktuelles (News)
Kater (Gents)
Katzen (Ladies)
Kitten
D2-Wurf
Nachwuchs (Youngsters)
Planung (plans)
unsere Kastraten (neuterd cats)
abzugeben (for sale)
ausgezogen (sold)
ehemalige Würfe (further litters)
Fotogallerie (pictures
andere 4-Beiner (other animals)
Kontakt

aktuelle Würfe
PePPermint Patty hat uns am 12. April 2020 ein wunderschönes Kitten geschenkt. Weitere Infos folgen in Kürze.
---
D²-Wurf/litter
Jean-Claude van Damme from EightySix

Cross Hillīs PePPermint Patty
---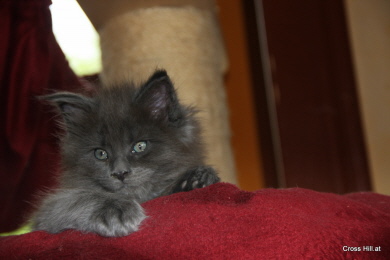 Cross Hillīs Dolores
---
Reservierungen sind nur mit Anzahlung möglich!
Die Anzahlung verfällt, wenn der Käufer gleichgültig aus welchen Gründen vom Kaufvertrag zurücktritt, oder das Kitten zum vereinbarten Termin nicht abgeholt wird.
Reservation is only possible after making a deposit!
If the buyer cancels the contract no matter what reason for, or the kitten will not be picked up to the agreed date the deposit decays.
---
PREISE:
die Preise der Kitten sind abhängig von Abstammung, Farbe, Show- und Zuchtpotential.
LIEBHABERTIER: von € 900,- bis € 1100,-
ZUCHTTIER: ab € 1700,-
PRICE:
the price of the kitten depends on pedigree, colour, show- and breedingpotential.
as a PET: from € 850,- to € 950,-
FOR BREEDING: beginning at € 1500,-